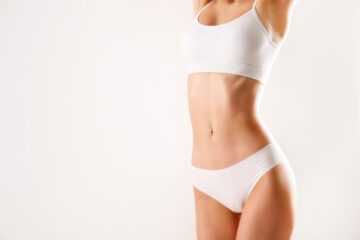 While a flatter and smoother look in the abdomen is one of the more well-known benefits of a tummy tuck, many patients are surprised to learn that the procedure may be able to resolve other concerns caused by pregnancy and aging — including stretch marks in certain cases. Stretch marks are typically caused by rapid changes to one's body shape, often causing the skin to internally rupture as it stretches or shrinks. This can sometimes lead to the long, narrow bands characteristic of stretch marks, which may be exacerbated by factors like hormonal changes and cortisol (stress) levels.
Many tummy tuck patients wonder whether the procedure may be able to remove their abdominal stretch marks and restore a smoother skin tone. In most cases, stretch marks can be removed during tummy tuck surgery when they're located on the region of skin planned for excision. Since one of the primary goals of abdominoplasty is to get rid of loose, hanging skin in the midsection, stretch marks concentrated in this area can usually be removed simultaneously. However, this is generally only possible if stretch marks are located below the belly button. For stretch marks found elsewhere on the abdomen, Dr. Bottger may be able to move them down so they're more easily concealed beneath underwear or a swimsuit bottom, thus allowing your stretch marks to appear more discreetly.
Like most concerns, the only way to definitively determine whether your stretch marks can be removed with abdominoplasty is to schedule a consultation with a board-certified plastic surgeon. Dr. David Bottger can help you learn whether a tummy tuck is able to provide the results you seek, or provide you with alternative treatments that can better achieve your goals. Please contact our Philadelphia office online or by calling (610) 227-6120 today.