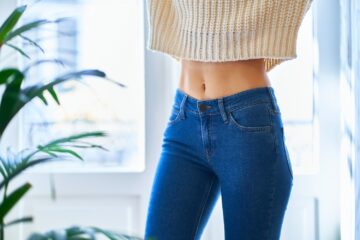 If you're thinking about liposuction to remove stubborn fat around the body, you're not alone. In fact, liposuction has remained in the top five most frequently performed cosmetic procedures in the country for the last few years. This technique can be used to remove localized, exercise-resistant fat from virtually anywhere, allowing patients to reshape unflattering contours around their body. There's a great deal of need-to-know information regarding surgery, but for now, perhaps you're simply interested in how long liposuction results typically last.
While efforts in dieting and exercise can shrink fat cells, liposuction involves a plastic surgeon actually removing fat cells in problem areas using a narrow cannula. After the procedure, a slimmer and more defined look in the treated regions will be evident and will continue to improve for up to several months as post-operative swelling resolves. The removed fat cells do not grow back — they're gone forever, but remaining and surrounding fat cells can still enlarge with future weight gain. That said, the general contour changes will be permanent.
All in all, the results of liposuction can last forever as long as you maintain a stable weight and make efforts to minimize weight gain. If extra weight is added in the future, your remaining fat cells will enlarge proportionately.
If you're ready to learn how liposuction can improve your appearance and change how you feel about the way you look, please contact Dr. David Bottger today to schedule a consultation.
Editor's note: The original version of this blog was published on June 3, 2014.