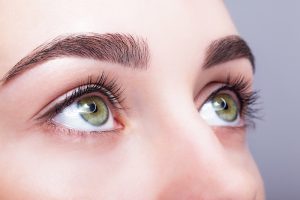 An eyelid lift, or blepharoplasty, is a common plastic surgery procedure in Philadelphia. However, there are actually two different procedures under the "eyelid lift" or "blepharoplasty" umbrella: upper and lower. These procedures accomplish different goals, and one or the other (or both) may be appropriate for you depending on your concerns.
Philadelphia plastic surgeon Dr. David Bottger has years of experience performing upper and lower blepharoplasty surgeries. Schedule your consultation by calling 610-355-1929 today.
What Is an Upper Blepharoplasty?
An upper blepharoplasty addresses the upper eyelids, and can help to remove excess skin and fat that are creating a drooping, tired look. Many men and women have upper blepharoplasty done in order to brighten and rejuvenate the entire eye area, leading to a more youthful and refreshed appearance.
Upper blepharoplasty can be combined with a brow lift if your eyebrows have begun to droop and affect the appearance of your eyes. Often, a combination brow lift and upper eyelid surgery provides the most comprehensive results.
You may be a good candidate for an upper blepharoplasty if:
You have excess skin or fat on the upper eyelid
You're interested in obtaining a more youthful looking eye area
Your upper eyelid skin is sagging due to age
What Is a Lower Blepharoplasty?
A lower blepharoplasty focuses on the lower lid, and is best for removing under eye bags and wrinkles. As they age, many people develop prominent bags under their eyes, and under eye wrinkles can become a problem as well. A lower blepharoplasty removes eye bags and helps create a smooth, youthful appearance in the lower eye region.
Lower and upper eyelid surgery can also be combined if you want to address the entire eye area, rather than just a part. Often, patients opt to have combination surgery in order to achieve total rejuvenation of the eye area.
You may be a good candidate for a lower blepharoplasty if:
You have significant bags under your eyes
You have wrinkles under the eyes that bother you
Does Insurance Cover Upper or Lower Eyelid Surgery?
In rare cases, upper eyelid surgery may be covered by insurance. If your upper eyelid skin is so heavy that it obscures your vision (a condition called "ptosis"), insurance may deem your procedure medically necessary and cover some of the costs. However, you will need to undergo vision tests and obtain documentation from your eye doctor in this case.
Eyelid surgery for cosmetic purposes is not covered by insurance. Dr. Bottger does offer financing through CareCredit to help you afford your procedure, though. He will discuss the costs of upper and lower eyelid surgery during your consultation.
Schedule Your Blepharoplasty Consultation
If you are interested in achieving a more youthful eye area, don't hesitate to contact Philadelphia eyelid surgeon Dr. David Bottger at 610-355-1929 today to schedule your consultation. Dr. Bottger will listen to your concerns, examine you carefully, and help you decide on a treatment plan that will achieve your goals.