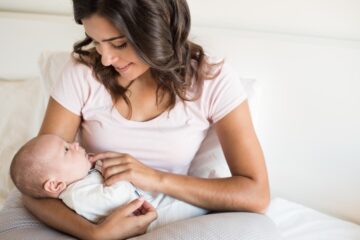 A Mommy Makeover is known for achieving excellent patient transformations, but it's not uncommon for some to be intimidated by the recovery period following surgery. Although recovering from a Mommy Makeover may seem daunting, understanding what you can expect during the healing process will help you better prepare for your procedure(s).
For the first few days of your Mommy Makeover recovery, getting plenty of rest is paramount. To allow you an adequate period of uninterrupted rest, we advise patients to arrange assistance from a friend or loved one. Whether to perform household chores and responsibilities or to help supervise your children, enlisting a helping hand can give you more peace of mind while you heal. Plus, it enables him/her to keep an eye on you during your recovery. Along with ample rest, you should also try to walk around and lightly ambulate as soon as you feel strong enough. This helps with blood circulation and can minimize the risk of blood clotting. While each person has a unique rate of healing — with the tummy tuck component requiring the most time — plan for at least two to three weeks of recovery before you make a full return to your normal routine (barring exercise and strenuous activity). Additional tips for healing include:
Do not drink alcohol excessively. Smoking is strictly prohibited.
Eat a healthy diet rich in vitamins and antioxidants. Try to avoid salty junk food, as it does not help to reduce swelling and may make you feel worse.
Listen to your body and do not rush the healing process.
Closely follow instructions from your plastic surgeon about incision care, surgical garments, showering, etc.
At the end of the day, following Dr. Bottger's instructions and advice for a smooth recovery is the most crucial part of healing from a Mommy Makeover. Be sure to err on the side of caution, and to reach out to Dr. Bottger or our medical team if you have any questions or concerns. 
Dr. David Bottger can give you an in-depth explanation of the entire recovery process during your consultation so you gain a more personalized idea of what to expect following surgery. Don't hesitate to contact our Philadelphia practice if you would like to speak with a member of our office or if you're ready to book an appointment.