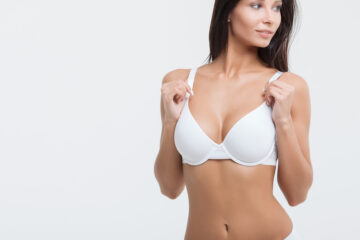 For most women, the loss of a youthful breast shape stands out among the myriad of aesthetic changes caused by the natural aging process. While advancing age can catalyze many transitions in the appearance of the face, skin, and body, changing hormone levels during this stage of life often notably affect the breasts in particular. According to the National Health Institute, the breast-related aesthetic changes that can occur during menopause and over time include:
A loss of firmness and fullness as the breasts become less glandular
Depleted volume and a loss of contours
Increased pendulousness, or "drooping"
Smaller nipple-areolar complexes
A wider space between the breasts
Each person's unique rate of aging differs, but most individuals begin to notice changes in their breasts at the age of 40 due to reduced production of estrogen in the body. Although these aesthetic developments can be disheartening, they don't have to be permanent. A breast lift and/or breast augmentation can be highly effective procedures to enhance the shape, projection, positioning, and symmetry of the breasts for long-lasting, natural-looking improvement. In many cases, combining both treatment options in a breast lift with implants procedure can reverse all of the aesthetic changes discussed above and bring a more youthful breast appearance to the surface. Furthermore, fat transfer alone or in combination with the above procedures can be another modality to achieve significant breast rejuvenation.
At his Philadelphia practice, Dr. David Bottger offers a comprehensive range of breast surgery options to help ensure patients find the most optimal solution for their aesthetic needs. Talk to Dr. Bottger about your concerns and cosmetic goals by contacting our office today to schedule a consultation.