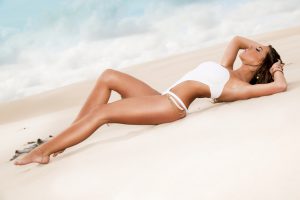 One of our most popular plastic surgery procedures is the tummy tuck. This surgery can help men and women achieve a flatter, more toned stomach, and is especially good for helping post-pregnancy women get their old figure back. However, before embarking upon tummy tuck surgery, you should know what the recovery process is like.
Philadelphia plastic surgeon Dr. David Bottger takes every step possible to make sure your tummy tuck recovery is as easy as possible. He is available to answer questions for you by phone, and will schedule follow-up appointments as needed. This commitment to aftercare is just one way that Dr. Bottger strives to provide the best experience possible for his patients.
If you are interested in a tummy tuck, call Dr. Bottger at 610-355-1929today to schedule your initial consultation.
How Long Before You Can Return to Work After a Tummy Tuck?
A tummy tuck is an extensive and complex surgery, and you will need to take some time off of work in order to recover properly. Each patient heals at a different rate, but in general, you should expect to take two weeks off work. It may be possible for you to return earlier than that, but you will need to discuss this with Dr. Bottger.
It is very important that you take as much time as needed to rest and recover. Recovery can be easily compromised if you try to do too much too quickly. Don't push your body beyond its limits, and make sure to follow Dr. Bottger's post-operative care instructions carefully.
Tummy Tuck Recovery Timeline
Immediately after your tummy tuck surgery, you will need to rest for a while in a recovery room. Tummy tucks are performed under general anesthesia, so you will need some time to fully recover from the anesthesia effects before going home. If your surgery was especially extensive, we may recommend a stay overnight.
After you return home, your recovery timeline will look something like this:
Bed rest with some walking
Take prescribed painkillers as needed
Attend all scheduled follow-up appointments with Dr. Bottger
Gradually increase amount of walking and light exercise done
Return to work after around two weeks
Resume light cardio
Resume more strenuous exercise, including weight lifting, after around 6 to 8 weeks
If you have young children, you should have someone around to help you with childcare for at least the first few days, preferably for a week. In addition, we recommend having help with any necessary housework for the first few days as well.
Tummy tuck surgery does require a long incision, so you will have a scar. However, over time, the scar should fade until it is barely noticeable. Dr. Bottger also hides the scar low along the bikini line, so it will be covered if you go to the beach or pool.