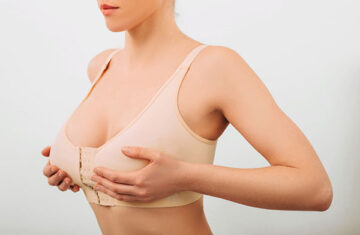 After breast augmentation, one of the most frequently asked questions raised by our patients is how to find an ideal bra to wear while their breasts heal from surgery. A good post-surgery bra can help your new breasts settle into the correct positioning and protect your incisions/stitches. Without an adequate surgical bra, you run the risk of your implants not settling properly. 
For all breast surgeries, the post-operative bra should provide both healing and support. In general, a garment that stretches freely, yet keeps your implants in the correct positioning whether standing, sitting, or lying down is key. A bra that is adjustable from the front (to minimize lifting your arms) and made of a soft fabric so as not to irritate your incisions can also be ideal. We advise against wearing a push-up bra, as well as an underwire bra in the early stages of healing, as both can disrupt the positioning of your implants and cause your breasts to settle improperly. 
The best type of post-surgery bra may vary for each person depending on factors unique to them; however, to recap — an optimal post-breast augmentation bra should be: 
Adjustable and not too tight to avoid chafing and irritation
Made of a soft, non-underwire material
Able to properly support your implants to allow them to settle properly
Able to conform snugly around your breasts while also remaining comfortable
Rest assured that Dr. Bottger can provide personalized recommendations regarding the best type of bra for you to wear after breast augmentation based on your chosen implant size and incision technique. If you have any questions before your consultation, our team members would be happy to help. Please contact Dr. Bottger today for more information or to set up a consultation.