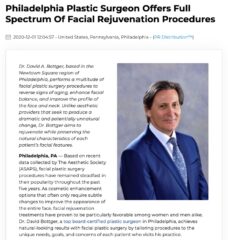 Dr. David A. Bottger, based in the Newtown Square region of Philadelphia, performs a multitude of facial plastic surgery procedures to reverse signs of aging, enhance facial balance, and improve the profile of the face and neck. Unlike aesthetic providers that seek to produce a dramatic and potentially unnatural change, Dr. Bottger aims to rejuvenate while preserving the natural characteristics of each patient's facial features.
Philadelphia, PA — Based on recent data collected by The Aesthetic Society (ASAPS), facial plastic surgery procedures have remained steadfast in their popularity throughout the past five years. As cosmetic enhancement options that often only require subtle changes to improve the appearance of the entire face, facial rejuvenation treatments have proven to be particularly favorable among women and men alike. Dr. David Bottger, a top board-certified plastic surgeon in Philadelphia, achieves natural-looking results with facial plastic surgery by tailoring procedures to the unique needs, goals, and concerns of each patient who visits his practice.
Among the most frequently requested facial procedures in the country are treatment options like otoplasty and rhinoplasty, which are performed to increase the harmony between one's facial features. These procedures are designed to permanently balance a patient's facial proportions, and therefore do not have any comparable non-surgical alternatives that are capable of achieving long-term results. Fortunately, both treatment options usually allow small incisions that are discreetly hidden within the natural contours of the face. This often translates into well-concealed post-surgical scars, possibly explaining the procedures' notable popularity among male patients.
Blepharoplasty (eyelid surgery) is another facial rejuvenation procedure that ranked in the top five most frequently performed cosmetic surgeries for men and women in 2019. Contrary to otoplasty and rhinoplasty, eyelid surgery is usually pursued with the goals of reducing facial aging and attaining a brighter, more youthful appearance. These are also the general objectives of facelift surgery, which can reposition the facial tissues to make a patient look up to ten years younger. While blepharoplasty is designed to treat the upper face, a facelift aims to address the lower face and neck. Many plastic surgeons opt to offer a facelift and neck lift as separate procedures; however, Dr. Bottger believes treating the face and neck simultaneously allows a more comprehensive and cohesive outcome since both areas typically age together.
Dr. Bottger believes offering the full scope of facial rejuvenation procedures at his practice allows patients to truly find the best treatment option to fulfill their aesthetic desires. When one entrusts a board-certified plastic surgeon with their cosmetic goals, Dr. Bottger states that facial plastic surgery can positively transform a patient's confidence and quality of life.
About David Bottger, MD
Dr. David Bottger is a Philadelphia-area plastic surgeon who is certified by the American Board of Plastic Surgery. With over 20 years of experience performing aesthetic procedures, Dr. Bottger offers the full range of facial rejuvenation, breast enhancement, and body contouring treatment options. Dr. Bottger was fellowship-trained at the renowned Cleveland Clinic Foundation, where he gained comprehensive experience in cosmetic as well as reconstructive plastic surgery. He is currently an active member of the American Society of Plastic Surgeons (ASPS) and the American Society for Aesthetic Plastic Surgery (ASAPS). Dr. Bottger is available for interview upon request.
To learn more, please visit drbottger.com or facebook.com/DrBottger.
Contact:
Dr. David A. Bottger
Philadelphia Main Line
3855 West Chester Pike, Suite 230
Newtown Square, PA 19073
(610) 355-1929