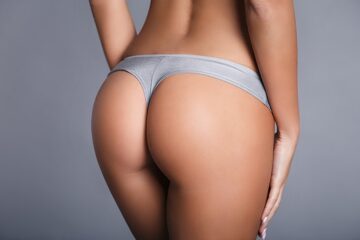 A Brazilian Butt Lift, more commonly known as BBL surgery, is one of the most popular plastic surgery procedures performed to give women a more sensual, voluptuous, and youthful silhouette. A full, shapely buttocks is often seen as a sign of fitness and youth. While many patients do not have the lower body contours they desire, the BBL procedure makes it possible to attain the desired buttock shape and volume using a patient's natural fat. Best of all, once the transferred fat "takes," the resulting augmentation can last for a lifetime. There are many ways to help maximize the results of your BBL to maintain the best possible contours, some of which include:
Thoroughly following Dr. Bottger's instructions during the post-operative healing period: This means wearing compression garments for the amount of time prescribed by Dr. Bottger, and following all other recovery protocols. The long-term results of your BBL will depend on how carefully you follow post-operative instructions, so prioritizing your aftercare is of the utmost importance.
Restricting sitting and minimizing pressure on the buttocks: Immediately after surgery, it's crucial to avoid sitting for long periods of time to reduce pressure on the buttocks and help ensure the blood supply for the reintroduced fat cells remains undamaged. Dr. Bottger will show you techniques on how to position yourself without putting excessive pressure on the buttocks.
Waiting until exercise is cleared before hitting the gym: To ensure the blood supply remains in optimal condition for the transferred fat, patients should wait at least four to six weeks (or until Dr. Bottger instructs otherwise) before exercising. We understand that you're excited to show off your new body, but prematurely working out can destabilize the new fat cells so it's important to take the time to properly recover.
Living an active and healthy lifestyle to maintain a stable weight: Like all cosmetic surgeries, the longevity of a Brazilian Butt Lift can be prolonged as long as patients commit to an active lifestyle and minimize weight fluctuations.
A Brazilian Butt Lift can be a highly effective and remarkably natural way to enhance the contours of your buttocks without an implant. Dr. David Bottger has achieved stunning results with BBL surgery and can give you personalized guidance on how to maximize your results. Don't hesitate to contact Dr. Bottger to schedule a consultation, or to learn more about your body contouring options.