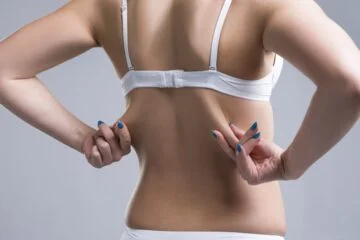 A bra bulge can be a persistent concern for many women despite their commitment to a healthy lifestyle. Characterized by an accumulation of excess skin and/or fat protruding over the bra straps, a bra bulge commonly develops near the underarms or along the mid-back. These areas can be very difficult to target with exercise alone, often proving resistant to efforts in toning or slimming the stubborn tissue. Fortunately, there are highly effective treatments available that can eliminate a bra bulge and restore a sleeker contour while maintaining a natural look. The most ideal approach for each patient typically depends on the type of tissue causing a bulge to form: 
Liposuction: In many cases, excess fat is a primary reason why patients develop a "muffin top," "love handles," or a bra bulge. Liposuction can be a simple and predictable technique to extract fat cells from the underarms/mid-back and shape the region, resulting in an almost immediate improvement.  
Arm Lift: For some patients, a bra bulge near the underarms may be caused by a buildup of loose skin. In these situations, an arm lift can be the most powerful procedure to not only eliminate the redundant tissue, but also to circumferentially sculpt the upper arm. Our before-and-after photos can provide examples of the transformative results that are possible with an arm lift. In certain cases, combining an arm lift with liposuction may be the most ideal approach to achieve a firm, sleek, and smooth contour. 
Ultimately, a consultation with a board-certified plastic surgeon is the only way to determine the best procedure to smooth a bra bulge. Once your concerns are evaluated in person, a personalized treatment plan can be developed and executed to achieve your goals.  
If you're bothered by a bra bulge, Dr. David Bottger can work with you to find the best solution for your unique needs. Please contact our Philadelphia office if you have any questions or if you're ready to schedule an appointment.