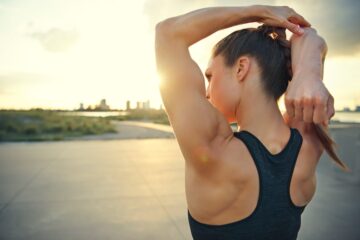 "Macromastia" refers to the condition of having large, heavy breasts that cause back pain, headaches, poor posture, and other physical symptoms. Chronic pain in the neck, shoulders, and back, in particular, is one of the most prominent symptoms of macromastia. This can lead to other health issues — such as difficulty exercising, numbness and tingling in the arms, and poor posture — that can make life burdensome for patients. While many people try alternative solutions to alleviate the pain of an excessive breast size, non-surgical methods like heat packs, a supportive bra, and medications treat the symptoms of macromastia rather than targeting the root cause of chronic pain. Fortunately, breast reduction surgery offers the most effective and comprehensive treatment to make the breasts lighter and more manageable, thereby reducing or even eliminating back pain.
According to Philadelphia plastic surgeon David Bottger, MD, breast reduction can be life-changing for women who feel held back by the weight of their overly large breasts. The procedure makes the breasts more proportional to their body size and removes excess skin, fat, and glandular tissue causing a dominant appearance. This also has the effect of lessening the weight of the breasts, which often resolves any neck, back, or shoulder pain experienced. Among the other health benefits possible with breast reduction include:
Improved posture
Reduced skin rashes, irritation, and chafing
Greater exercise tolerance
A more active lifestyle
Breast reduction can also provide a significant breast lift in most patients. Most importantly, breast reduction aims to give you a more comfortable and carefree quality of life by alleviating the burdens of large, heavy breasts. Dr. David Bottger can speak with you about how breast reduction — or perhaps another treatment option  — may be able to address your concerns and achieve your goals. Contact our Philadelphia practice for more information.