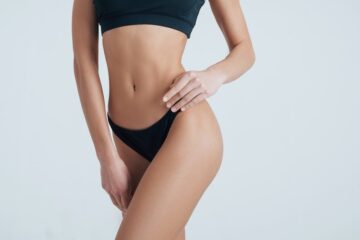 A Mommy Makeover is a dynamic procedure that has helped countless women regain their confidence after the stressors of pregnancy and nursing. While researching a Mommy Makeover, some people wonder how having additional children after their cosmetic surgery may affect their final results. Nothing about Mommy Makeover surgery should affect your ability to have children in the future, but our board-certified plastic surgeon still advises waiting until after you no longer plan to become pregnant or breastfeed before undergoing a Mommy Makeover.
According to Dr. David Bottger, the procedures commonly performed in a Mommy Makeover — such as tummy tuck surgery, mastopexy, and liposuction — repair areas that have become weak or lax as a result of pregnancy. This often includes stretched out abdominal muscles (a condition called "diastasis recti") and loose, sagging skin. While getting pregnant after a Mommy Makeover does not affect your health, the physical toll that having children has on the body can re-stretch the skin and muscles, ultimately reversing the outcome achieved during surgery. Consequently, the quality of your aesthetic results may be negatively affected by future pregnancy and recreate the concerns you initially wanted to correct. Therefore, having children after a Mommy Makeover typically does not cause patients any medical issues; however, doing so can be ill-advised from an aesthetic perspective.
All in all, you should openly discuss your concerns and goals for the future with Dr. Bottger to confirm the most optimal Mommy Makeover timing for you according to your needs. There's a lot of information to know if you're considering a Mommy Makeover, and our team is committed to helping ensure you have a complete understanding of the procedure before you make a decision about surgery. Contact Dr. David Bottger online or at our Philadelphia office by calling (610) 227-6121 to schedule a consultation.