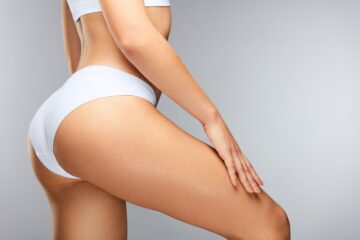 After successfully losing large amounts of weight, the presence of excess skin in the lower body is often considered the last hurdle in one's journey towards becoming a healthier and more confident person. Despite a patient's well-earned physical transformation, their skin is typically unable to conform to their new body shape and, consequently, accumulates along the upper arms, abdomen, buttocks, and inner thighs. A thigh lift is a cosmetic procedure frequently sought out by patients who have either undergone bariatric surgery, or who have achieved significant weight loss through dieting and exercise. While many individuals are eager to eliminate excess skin as quickly as possible following their weight loss, some patience may be required before pursuing a thigh lift. 
Generally speaking, patients who have previously had weight loss surgery should wait approximately six months at their final weight before undergoing a thigh lift or any other body contouring procedure. The body enters a constant state of flux after bariatric surgery as weight is gradually shed in the months following one's procedure. This necessitates a brief "waiting" period before thigh lift surgery to allow the body to properly stabilize and heal. Once a consultation with a board-certified plastic surgeon reveals it's safe to undergo a thigh lift, patients also have the option of adding other skin tightening procedures to their treatment plan, including a tummy tuck, arm lift, or buttock lift. By opting for a more extensive treatment plan known as a body lift, individuals who have had weight loss surgery can treat multiple areas with hanging skin simultaneously, resulting in all-encompassing improvement.
If you're bothered by excess skin surrounding the inner thighs, a thigh lift may be the perfect solution to help you restore smoother, leaner contours after massive weight loss. For more information on a thigh lift, or about how to achieve more comprehensive results with a body lift, please don't hesitate to contact Dr. David Bottger today.