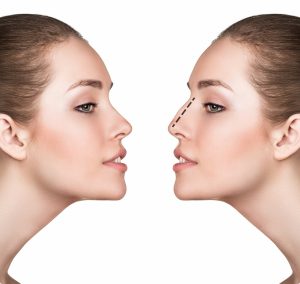 There's no doubt that because of its central location, your nose is a locus of attention when people are engaged in conversation with you. People notice your nose. And you notice it when its size and shape is not quite right. That's why many Philadelphia residents ask us about the potential of a rhinoplasty procedure.
A rhinoplasty can achieve a rather remarkable change in the appearance of your nose. This, in turn, can effect a change in your overall facial appearance that's quite striking.
Here are some of the reasons people undergo a rhinoplasty procedure:
They have a deviated septum that makes it difficult to breathe through the nose – a rhinoplasty can correct this issue
The nose is too large or too prominent
The nose is irregularly shaped or crooked
There is a bump or other imperfection in the bridge of the nose
The tip of the nose is too wide, bulbous or thick
Of course, every patient is unique, and we all have our own aesthetic concerns. Your specific issue might not fall under one of the above bullet points. However, that does not mean you aren't a candidate for rhinoplasty. The only way to know for sure if the procedure is right for you is to arrange a consultation and examination with Dr. Bottger. We'll provide you with the skilled, experienced advice you need and deserve.
If you live in or around Philadelphia, Pennsylvania and you want to know if a rhinoplasty is right for you, please call Dr. David A. Bottger today at 610-355-1929 for a consultation.