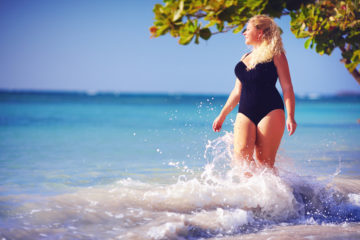 One of the most popular plastic surgery procedures we offer is tummy tuck surgery. Abdominoplasty can be a great way to get rid of excess skin and fat in order to attain a flatter stomach and more attractive figure. The procedure is very effective for many different patients, including plus-sized men and women.
If you are overweight but not considered obese, a tummy tuck may still be a good option for you. You'll achieve the best results if you are already within striking distance of your goal weight; however, even if you still have a ways to go, discuss your options with our Philadelphia plastic surgeon, Dr. David Bottger. In some cases, a tummy tuck provides a much-needed jumpstart to dive into healthy living.
If you are interested in a plus-size tummy tuck, call Dr. Bottger today at (610) 227-6124 to schedule your initial consultation.
Considerations With a Plus-Size Tummy Tuck
The biggest factor to consider with a plus-size tummy tuck is physical health. Regardless of your BMI, you must be in good health to undergo surgery without an increased risk of complications. Dr. Bottger can give you a better idea of whether you're in good physical shape to undergo a tummy tuck when he reviews your medical history. If you have a lot of weight to lose before you hit your goal, you may want to consider waiting on your tummy tuck. The reason is that losing a lot of weight can cause issues with excess skin, so you may need a revision tummy tuck if you have the procedure too soon.
It's also worth noting that a tummy tuck for a plus-sized patient will likely include additional liposuction to smooth the flanks, lower back, and abdomen. This is not the case for all men and women, but it's often necessary to achieve the best results. 
Something else to consider is your lifestyle. If you can't maintain your weight and commit to a healthy lifestyle, you'll likely regain fat in your stomach area. In addition, while it's safe to have children after a tummy tuck, pregnancy may ruin your results and you'll probably need to have revision surgery afterwards. It's almost always best to wait until after you're finished having children to have a tummy tuck.
Can a Plus-Sized Patient Get a Tummy Tuck?
If you have a BMI over 30, it is very likely in your best interest to lose some weight before embarking on the tummy tuck process. Obese patients may have health concerns that make elective surgery a bad idea. That said, if you are overweight but generally healthy, a tummy tuck may be beneficial for you.
The truth is that most patients seeking a tummy tuck are overweight to some extent. You'll probably get the best results from a plus-size tummy tuck if you:
Are already pretty close to your goal weight – within 20 to 30 pounds

Are healthy, with no medical conditions that could raise your risk of complications

Are committed to living a healthy and active lifestyle

Do not plan on getting pregnant again
It's very important to have realistic expectations for your surgery when considering a plus-size tummy tuck. A tummy tuck is not a magic wand that will transform your body into your celebrity-of-choice. If you are a size 20, you should not expect to size down to a 2 after your procedure. Tummy tuck surgery will help to flatten your stomach and tighten your abdominal muscles, but it cannot address the breasts, love handles, buttocks, or thighs. If you want to treat all these areas at once, consider a Mommy Makeover for a combination treatment plan.
That being said, most plus-sized candidates absolutely love their results. While you cannot realistically expect to become super thin after surgery, you can definitely expect a big change in your body proportions and a drop in your clothing sizes. Most of our patients find that clothes fit and look better, and are much less self-conscious in bathing suits or lingerie. Plus, although a tummy tuck is not a method of losing weight, it can certainly give the appearance of weight loss and provide a boost to your self-esteem.
Schedule Your Plus-Size Tummy Tuck Consultation
If you are interested in a tummy tuck with an experienced and knowledgeable board-certified plastic surgeon, call Dr. David Bottger today at (610) 227-6124 to schedule your consultation. We serve patients in the greater Philadelphia region, including Bryn Mawr and Newtown Square.
Editor's note: The original version of this blog was published on July 12, 2018.