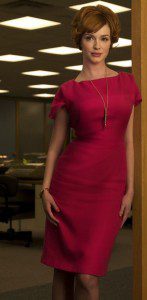 We have alluded to Christina Hendricks and her bosomy frame before, but we have never dignified the claim made by some experts in the UK thatshe was responsible for a rise in breast augmentation in that country. Instead, Hendricks has been a model for women's acceptance of their own bodies, a message that becomes clearer when you know her story, which she shared with the British tabloid The Mirror.
Hendricks' story is a fairly typical one for a young woman. She says she began dying her hair at age 10 to look like the heroine in Anne of Green Gables. She described herself as a "goth kid" in high school.  Her rebellious nature led her to receive criticism of her looks from other children, strangers, even her mother. As a result, she "never felt pretty." It was not until she put on a wig and posed for pictures in a cemetery, trying to appear on the cover of Seventeen magazine that she changed her perspective of herself. With the confidence gained by that experience, she moved to New York and began modeling professionally. Hendricks was only about 115 pounds when she began her modeling career, putting the 5'8″ young woman right in the desired super-slim model class. But living in Italy while modeling, she found she had a weakness of cappuccinos and began to put on weight. As she gained weight, modeling agencies told her to lose it, something she didn't want to do, because she felt she finally "looked like a woman."
Although she had a number of guest appearances and short-term roles on popular TV shows, it was not until Mad Men that Hendricks became recognized as a sex symbol, something she credits to the 1960s fashions she wears on the show: pencil skirts, nipped-in waists, and conical bras. Indeed, the late 50s and early 60s were the heyday of the curvy woman,the era of Marilyn Monroe, and the origin of modern breast implants. Despite that, Hendricks is uncomfortable with the thought that women might be getting breast augmentation to get her look. She says, "I hope I'm not encouraging that. If there's anything to be learned from me, it's that I'm learning to celebrate what I was born with, even though it's sometimes inconvenient."
You can see plenty of her celebrating her curves in this promo video for season 5 of Mad Men, premiering next month: Mad Men Season 5 Promo Ideally, all women should learn to live in and celebrate their natural bodies, but it's not easy. Even Hendricks has faced her share of criticism, and is regularly described as fat, frumpy, or matronly by critics. Some women would rather change themselves than simply accept their bodies. If you are unhappy with your body and would like to learn more about your options, please contact Philadelphia board-certified plastic surgeon Dr. David A. Bottger to schedule a consultation.