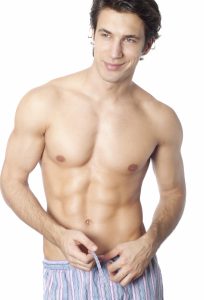 Many men in the Philadelphia area suffer from gynecomastia, which is the appearance of "breasts" on men. This condition is obviously embarrassing and unpleasant, and it's something you want to treat as quickly as possible.
The good news is that if you're suffering from gynecomastia, you have options. Dr. David Bottger can address your gynecomastia, eliminating it as a concern and leaving you more confident in, and comfortable with, your body.
Male breast reduction is a common procedure with an impressive safety record. The procedure itself is relatively simple. It involves using liposuction to remove fat and glandular tissue from the pectoral region. In some cases, we will conduct a direct excision through a small incision around the areola. If necessary, we can also remove excess skin.
You are a good candidate for male breast reduction if you're in good overall health, have no active infections, possess stable mental health and do not take anabolic steroids or use marijuana. We will thoroughly evaluate you to ensure you can safely undergo gynecomastia surgery. We are committed to only performing those procedures that are necessary and safe.
If you live in or around Philadelphia, Pennsylvania and you're looking for solutions to your gynecomastia, please call 610-355-1929 for a consultation and examination.