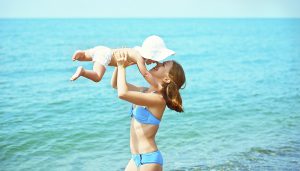 Mothers across the country are becoming more and more interested in mommy makeovers after childbirth. Pregnancy is an amazing and rewarding experience, but your body undergoes many changes. A mommy makeover can restore your body to its pre-pregnancy condition by performing a combination of breast augmentation, liposuction and abdominoplasty.
The question many mothers are asking is, "How soon is too soon for plastic surgery?" The best way to find out if a mommy makeover is right for you is to schedule a consultation with board-certified plastic surgeon Dr. Bottger in Philadelphia.
This form of body sculpting is an invasive procedure that requires ample recovery time. It's important to wait until your child is slightly independent and doesn't need to be consistently held or picked up. Many moms wait several years after delivery so their children are more self-sufficient, but a minimum of one year is a good place to start.
In that time, try to lose as much of your pregnancy weight as possible. Your body needs to recover after giving birth and it will take some time for your breasts to return to normal after breastfeeding. Your stomach also needs time to contract. A mommy makeover is great for removing stubborn fat and excess skin. The better shape your body is in the more successful your surgical results could be.
You should wait to undergo a mommy makeover until you're done having children. Giving birth after a mommy makeover procedure could reverse the results.
If you're interested in a mommy makeover, call our Philadelphia plastic surgeon today at 610-355-1929 to schedule your consultation. Dr. Bottger provides experienced plastic surgery to patients in the Philadelphia, Bryn Mawr and Newtown Square, Pennsylvania areas.